Insure Safe Storage of Your Products With Our Qualitative Range Of Metal Tin Containers, Powder Tin Container, Printed Tin Containers, Food Tin Containers etc...
About Us
Metal Containers are one-of-the most popular storage products that are supporting various industrial and food products in the market for a long period of time. As, there is a huge demand in the market for a range of secure & reliable metal containers,
Amar Industries
is successfully serving as the
manufacturer
of such products. Our aim is to produce a range of metal tin containers which can secure the product from intoxication with sunlight, air and water. So, the product range that we offer to our customers is consist of
Tin Container, Tin Sealing Machine, Aluminum Container, Printed Round Tin Container, Food Tin Container
etc. We ensure that the metal containers that we offer to our customers are anti-corrosive and helps in providing longer shelf life to the products. Our main priority is to satisfy our customers with the range of our products, for which we test its quality and provide customized labeling and prints on the metal containers. We also work as a
trader
of a similar range of products in order to fulfill requirements of our customers much effectively. By delivering a range of high-quality metal containers, we took ourselves at top in this competitive field of manufacturing and we are focused to sustain our position in the market.
Quality Matters
These popular metal containers are around the world since 1900s. The cans are widely used for storing soft drinks, etc. and everyone have used it in one way or another. Therefore, we took it as our responsibility that each container supplied by us is properly quality assured and doesn't infects the product stored in it. We also take care for its vacuum sealing and labeling. With the help of our highly durable metal tin containers that provides longer shelf life to the products, we are able to achieve stability in the market and grow in this field of manufacturing. That's why, we are always focused upon the quality of our product and never compromise with even our single product.
Our Team- Our Strength
The level of stability that we have achieved today, is all because of our team. Our team has worked with full dedication and upgraded its ways of working with time, which helped us to attain this position in the market. That's why we claim that our team is our strength and some of its major qualities to be mention are:
Effective communication
Flexibility and determination
Improvement with time
Adaptability to new challenges
Infrastructure We Have
From years, we have been a center of discussion in the industry because of our well-constructed infrastructure set up. We are easily meeting market demands for Aluminum Container, Food Tin Container, Printed Round Tin Container, Tin Sealing Machine, etc. due to support of our set up. Here, we have industry's most advanced machines and tools, installed in a well manner to have efficient production of the offerings. The lighting, ventilation and furnishing arrangements of our premises are also appreciable, they give comfort to employees and create a perfect environment to work.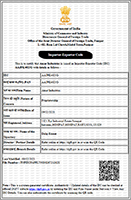 Plot No.1321, Rai Industrial Area, Near Ethnic Resort, Sonipat - 131028, Haryana, India
Phone :91--9999326901
Mr. Dalip Pruthi (Proprietor)
Mobile :+919999326901, +919811231090